Activities you don't want to miss in Sunshine Coast
No doubt Sunshine Coast has a lot to offer to the public, not only because of its environmental diversity, which ranges from the most paradisiacal beaches to dense and deep forests. The city also has an extensive schedule of activities that allow you to enjoy the sun, routes, and crystal-clear waters.
Speed freaks will find impressive roads to travel by motorcycle thanks to the 790-kilometer long Pacific Highway, which is why it's considered an important transport route through the central east coast. Along the way, you can find some viewpoints to legendary moors such as Glass House Mountains and Wild Horse Mountain, formations that were born from extinct volcanoes approximately 25 million years ago.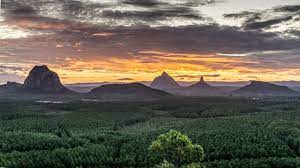 All-terrain bikes are not the only option as the coast enables bus tours with guides for a more detailed visit. Some stops on these tours are at popular bars to taste Australian craft beer, highly acclaimed worldwide.
 The renowned Australia Zoo, owned by Steve Irwin's family, is not to be missed during a trip to Queensland. The enclosure was inaugurated on June 3, 1970, and to date they maintain their objective of preserving the animal species of birds, mammals, and reptiles continuing with the legacy of the
already deceased "Crocodile Hunter". Inside its facilities is the Mount Franklin Crocoseum, a venue for concerts and local shows.
Of course, the main attraction of the Sunshine Coast lies in its golden beaches. Noosa Main Beach and Mooloolaba Beach are the most popular due to their calm tide ideal for swimming placidly or taking a walk on the warm sand. Also, in the surroundings are several regional restaurants to eat a good meal, although there's the possibility of preparing a homemade barbecue near the sea.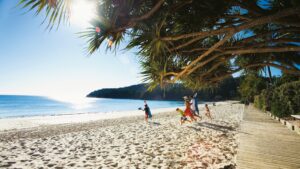 Mooloolaba Beach is also known for being home to the Cartwright Lighthouse, where picnics are allowed to watch the sunset, as long as it does not pollute the environment.
And if it comes to water activities, Noosa National Park allows you to explore marine life with kayaking, diving, and surfing practices, as well as hiking for those who prefer to explore the land.
Have you decided what you will do first?
I hope these stories have inspired you to discover the beauty of this natural paradise. Remember, nature always awaits, so see you soon in new destinations and new stories to share! Travel safely and keep exploring